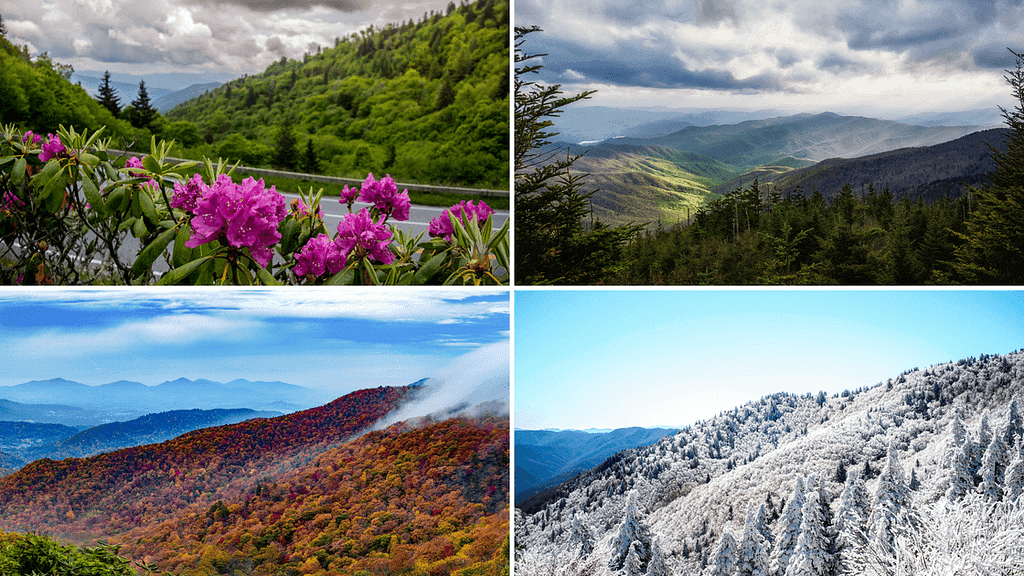 Introduction
The Great Smoky Mountains offer a world of experiences that change dramatically with the seasons. From the budding landscapes of spring to the snow-clad tranquility of winter, each season has its unique appeal. This comprehensive guide will help you navigate the year-round splendor of this natural paradise, ensuring you get the most out of your visit, no matter when you decide to explore.
Spring: A Renaissance of Nature
The Landscape
When spring arrives in the Great Smoky Mountains, the world seems to awaken from its winter slumber. As the snow melts away, watercourses fill up, adding a symphony of trickling streams and roaring waterfalls to the natural soundscape. The flora is perhaps the most captivating feature: vibrant tulips, golden daffodils, and delicate trilliums emerge, providing a riot of color against the fresh green backdrop of budding trees.
Activities
Hiking
Spring is a hiker's dream. With over 800 miles of trails, you can choose paths that meander through forests bursting with new growth or opt for challenging treks that take you up to panoramic vistas. Must-hike trails include the Alum Cave Trail to Mount LeConte and the easier Laurel Falls Trail, perfect for capturing the essence of spring in your photos.
Bird-Watching
The resurgence of foliage and flowers also signals the return of many bird species. Keep an eye (and ear) out for songbirds like the Scarlet Tanager and the Wood Thrush. Bring a pair of binoculars and a field guide to make the most of this avian spectacle.
Whitewater Rafting
The melting snow feeds the rivers, making spring an excellent season for whitewater rafting. The Pigeon River offers a range of rapids suitable for both beginners and experienced rafters. Make sure to book in advance, as this activity gains popularity quickly in the spring.
Insider Tips
Wildlife Precautions
Spring also marks the awakening of the park's larger inhabitants like black bears. Always maintain a safe distance and store food properly when camping.
Wildflower Pilgrimage
If you're particularly interested in the diverse flora, try to schedule your visit around the annual Spring Wildflower Pilgrimage. This week-long event features guided hikes, educational seminars, and art classes, all centered around the park's incredible biodiversity.
Off-Peak Visits
While spring is less crowded than summer, weekends can still get busy. For a more serene experience, consider visiting on weekdays and stay in less popular regions of the park like Cosby or Cataloochee.
Packing Essentials
Spring in the Smokies can be unpredictable with fluctuating temperatures. Pack layers to adapt easily, and don't forget waterproof gear. A sudden spring shower is not uncommon.
Summer: The Lush Life
The Landscape
Summer in the Smokies is synonymous with lushness and vitality. The greenery reaches its peak, with forests appearing as rich tapestries of various shades of green. Wildflowers add their own colorful brushstrokes to this living canvas. Species like the orange Butterfly Weed and the scarlet Cardinal Flower bring a dash of brightness to the wooded scenes, while rivers and streams appear particularly inviting with their crystal-clear waters shimmering in the sunlight.
Activities
Fishing
Summer is an angler's paradise in the Smokies. Whether you're an expert or a beginner, the park offers a variety of freshwater fishing opportunities. Rivers and streams are teeming with trout, while lower elevations provide bass fishing. Just remember to adhere to the park's fishing regulations and obtain the necessary permits.
Swimming
When the heat is on, and temperatures soar up to 88°F, nothing beats the refreshment of a dip in the water. Popular swimming holes like Midnight Hole and the Sinks offer not just the promise of cool water but also stunning natural settings.
There's no better time than summer to pitch a tent under the stars. Campgrounds like Cades Cove and Smokemont offer amenities like running water and restroom facilities, but if you're up for a more authentic wilderness experience, backcountry camping is also an option. Always remember to make reservations, as summer is a popular time for camping.
Stargazing
On a clear summer night, the park offers spectacular stargazing opportunities. Due to its status as an International Dark Sky Park, you'll be able to see celestial events and objects that are often invisible in areas with light pollution.
Insider Tips
Beating the Heat
Higher elevations offer a respite from the summer heat. The temperature drops about 3-5°F with every 1,000-foot increase in elevation. A trip to Clingmans Dome, the park's highest point, can provide a welcome relief.
Wildlife Spotting
Summer evenings often provide the best opportunities for wildlife spotting. Look out for fireflies that light up the night in late May to early June, a natural phenomenon unique to the Smokies.
Water Safety
The rivers and streams may look inviting, but currents can be deceptive. Always exercise caution when swimming, and it might be a good idea to wear water shoes to protect your feet from the rocky riverbeds.
Seasonal Festivities
Don't miss the local festivals like the Smoky Mountain Tunes & Tales, which usually takes place in the nearby town of Gatlinburg. These festivals often feature live music, storytelling, and local crafts, providing a rich cultural addition to your nature-centric getaway.
Autumn: The Golden Season
The Landscape
Autumn in the Smokies is an extraordinary visual spectacle. Imagine a tapestry of ochre, amber, crimson, and plum woven into the rugged landscape, courtesy of the deciduous trees that abound in the region. From sugar maples and hickories to oaks and dogwoods, each contributes its unique hue to the grand palette of fall foliage. The air takes on a crispness that complements the scenery, imbued with the fragrance of fallen leaves and damp earth.
Activities
Leaf Peeping
When it comes to leaf-peeping, timing is everything. The higher elevations start displaying their colors as early as late September, while the lower elevations catch up by mid-October. Iconic viewpoints like Newfound Gap and Cades Cove Loop Road provide jaw-dropping vistas that will satisfy the most avid photographers and nature lovers.
Hayrides and Harvest Festivals
Autumn is festival season in the Smokies, often featuring hayrides, pumpkin patches, and local crafts. Check out community calendars for events like the Harvest Festival in Gatlinburg, which showcases the region's cultural heritage alongside its natural beauty.
Mountain Biking
For those looking for an adrenaline boost, mountain biking gains prominence in the fall. The cooler temperatures ranging from 34°F to 74°F make strenuous outdoor activities like this far more comfortable. The Tsali Recreation Area offers some of the best trails for both beginners and experts.
Wildlife Viewing
Autumn is also the time when wildlife in the Smokies becomes more active, prepping for the winter months. Keep an eye out for white-tailed deer, elks, and even bears foraging for food.
Insider Tips
Peak Foliage Timing
For the best foliage experience, aim for mid to late October, but remember that the timing can vary. The park's webcams and foliage prediction websites can be excellent resources for planning your visit.
Off-the-Beaten-Path Exploration
To escape the crowds, consider trails like the Middle Prong Trail or the Porters Creek Trail, which are less trafficked but still offer stunning autumnal views.
Suitable Attire
Dressing in layers is key, as temperatures can fluctuate dramatically throughout the day. A moisture-wicking base layer topped with fleece and a waterproof jacket is often an ideal choice.
Local Produce
Don't leave without trying some seasonal local produce. Apple orchards and farmers' markets are abundant, offering fresh produce that adds a culinary delight to your autumnal adventure.
Winter: A Wonderland in White
The Landscape
When winter descends upon the Smoky Mountains, the bustling greens and vibrant autumnal colors yield to a tranquil panorama dominated by ethereal shades of blue and white. The mountain peaks don themselves in snowy caps like regal crowns, presenting a spectacle that can make you feel as though you've stepped into a winter painting. The stark white of the snow contrasts dramatically with the somber, almost indigo sky and the skeletal silhouettes of leafless trees, creating a spellbinding landscape that captures the quintessence of winter's serenity. Sunsets can be particularly enchanting, painting the snow in hues of soft pink and lilac.
Activities
Snowboarding and Skiing
Although the Smokies aren't typically known for ski resorts, the Ober Gatlinburg Ski Area offers snowboarding and skiing opportunities. With nine trails ranging from beginner to advanced, there's something for everyone. It's crucial to check the snow conditions before embarking on a trip as the availability of these activities is highly dependent on the weather.
Ice Fishing
For those who find peace in angling, winter provides a unique experience in the form of ice fishing. While the Smoky Mountains don't offer vast frozen lakes, you can still find suitable locations, especially in nearby areas outside the park. Safety is paramount; make sure to consult local guidelines and understand the ice thickness before setting up.
Winter Hiking
Don't let the snow deter you from hitting the trails. While many paths may be snow-covered, winter hiking offers unparalleled vistas and solitude. Trails like the Alum Cave to Mt. LeConte and the Ramsey Cascades offer breathtaking winter views, though they do require a higher level of preparation and caution due to icy conditions.
Insider Tips
Seasonal Closures and Limited Access
Visiting the Smokies in winter requires a different level of planning. Many visitor centers, campgrounds, and facilities either close or operate on reduced schedules. Roads like the Clingmans Dome Road and the Roaring Fork Motor Nature Trail are usually closed during winter months. Therefore, it's essential to consult the National Park Service's official website for the most current information on closures and operational hours.
Layer Up and Gear Up
Winter temperatures in the Smokies can be deceptively cold, with lows that can plunge below freezing, especially at higher elevations. Layering is key to staying warm. Ensure you have a moisture-wicking base layer, an insulating layer like fleece, and a waterproof outer layer. Don't forget insulated, waterproof boots and appropriate winter gear such as gloves, beanies, and perhaps even snow goggles.
Wildlife Considerations
Winter is also a time when many of the park's animals are in hibernation or are less active. However, it's not uncommon to spot wildlife like elk or even the occasional bear if the weather is mild. As always, maintain a safe distance and store food properly.

Whether you're a first-timer or a seasoned traveler, the Great Smoky Mountains offer an endless array of experiences that differ beautifully with each passing season. With thoughtful planning, you can tailor your trip to make the most of what each season has to offer. The Smokies don't just present a destination; they offer a year-round journey through nature's most stunning transformations.