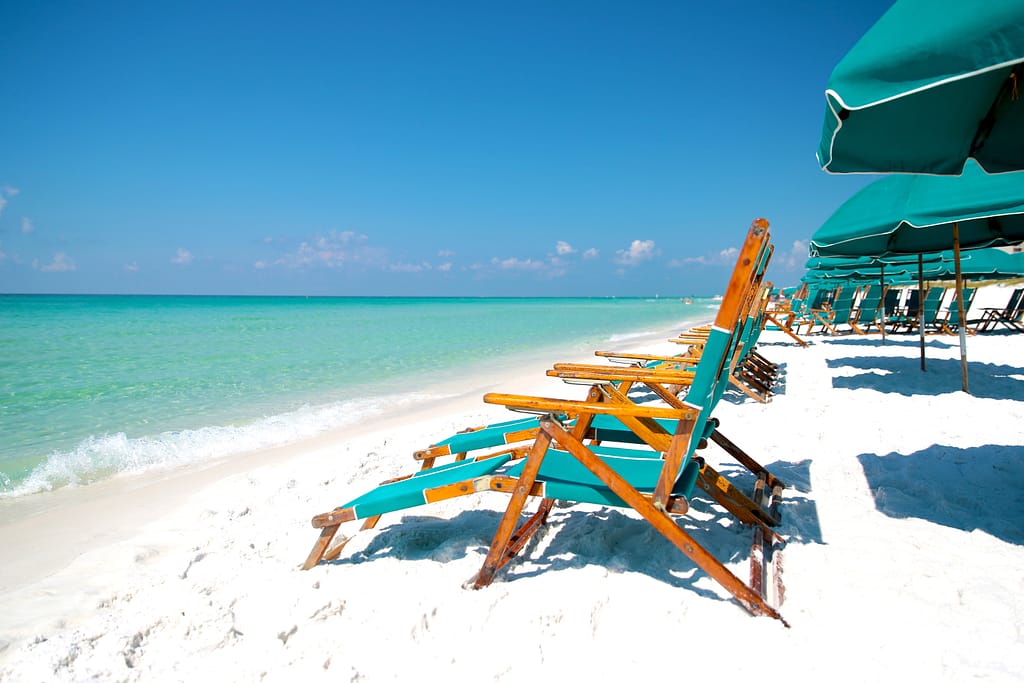 *This post contains affiliate links. This means that for some of the links, if you click on them and purchase something from one of my partners, I get a small kickback that helps support the production of my content. Rest assured I have no idea what you actually purchased or that it was you. I only know that someone purchased something. 🙂 Thanks for your support!*
Located in the Panhandle of Florida, Destin is a premier beach destination that attracts millions of visitors each year. Known for its sugar-white sand beaches, crystal-clear waters, and friendly atmosphere, Destin has everything you need to have a great vacation.
Things to do on the Beach
One of the biggest draws to Destin is its stunning beaches. Whether you want to soak up the sun, play in the waves, or just relax with a good book, there's plenty to do on the beach. One of the best ways to enjoy the beach is by renting a beach umbrella and chairs. This will provide you with a comfortable place to relax and enjoy the beautiful scenery without having to worry about the sun's harmful rays.
If you're looking for something a little more active, there are plenty of water sports available. You can rent a paddleboard or kayak and explore the coastline, or take a jet ski for a spin. Parasailing is also a popular activity, giving you a bird's-eye view of the stunning coastline. If you're feeling more adventurous, try your hand at kiteboarding or windsurfing. Check out my guide to the 7 Must-Do Activities in Destin!
Things to do at Harborwalk
Another popular destination in Destin is the Harborwalk. This lively area is home to a variety of restaurants, shops, and activities. One of the main attractions is the boardwalk, which offers stunning views of the harbor and is a great place for a stroll. There are also a number of charter boats available, ranging from fishing charters to dolphin-watching tours.
If you're looking for something more relaxing, there are a variety of spas and salons available. You can get a massage, a facial, or even a mani-pedi. There are also a variety of shops, ranging from souvenir shops to high-end boutiques.
Things to do in the Ocean
Destin is also home to a rich and diverse marine life. If you're interested in getting up close and personal with the local sea creatures, there are a variety of ocean-based activities available. One of the most popular is scuba diving, which allows you to explore the underwater world of the Gulf of Mexico. There are also snorkeling excursions available, which provide a more laid-back experience while still allowing you to see the colorful fish and coral.
If you're looking for something more thrilling, try deep-sea fishing. Destin is known as the "World's Luckiest Fishing Village," and for good reason. With a variety of fish available year-round, there's always a chance to catch something big. Check out my Ultimate Guide to Deep Sea Fishing in Destin, FL!
There are also dolphin-watching tours available, giving you the chance to see these intelligent creatures up close.
Places to Stay
One of the most important aspects of any vacation is finding the right place to stay. Destin has a wide range of options, from cozy beachfront cottages to luxurious high-rise condos. There are also a number of hotels and resorts available, ranging from budget-friendly to high-end. No matter what your budget or preferences are, there's something for everyone in Destin.
For a luxurious and indulgent experience, check out the Henderson Beach Resort. This stunning resort features a private beach, multiple swimming pools, a spa, and multiple restaurants. If you're looking for something more budget-friendly, check out the Beachside Inn. Located just steps from the beach, this cozy inn features clean and comfortable rooms at an affordable price. For my places to stay check out my 16 Best Family-Friendly Places to Stay in Destin post!
Ready to head to the beach? Grab My Easy Beach Packing List!
Places to Eat
Destin is known for its fresh seafood and Southern cuisine, so it's no surprise that there are plenty of delicious restaurants to choose from. One of the most popular is The Crab Trap, which features fresh seafood, stunning views of the beach, and a lively atmosphere. Another great option is The Back Porch, which has been serving up fresh seafood for over 40 years. Located right on the beach, it's the perfect place to enjoy a meal while soaking up the stunning scenery.
Check out their video!
If you're looking for something more upscale, check out Beach Walk Cafe. This restaurant, located at the Henderson Beach Resort, features a fine dining experience with stunning views of the Gulf of Mexico. The menu is filled with fresh seafood and other local specialties, all served in a beautiful and elegant atmosphere.
For a more casual experience, head over to The Donut Hole. This family-owned restaurant is known for its delicious breakfast dishes, including fresh-baked donuts and hearty omelets. There are also a variety of lunch and dinner options available, ranging from burgers to seafood.
Destin, Florida is a beautiful and exciting destination with something for everyone. Whether you're looking to relax on the beach, try your hand at water sports, explore the local attractions, or indulge in some delicious seafood, Destin has you covered. With its stunning beaches, lively Harborwalk, and diverse marine life, it's no wonder that it's one of the top vacation spots in the country. Book your stay today!